To top
HP ML10 V2 Servers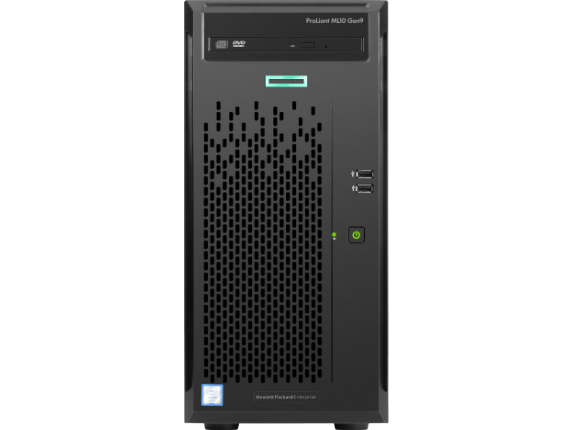 1 Processor Support - 32 GB RAM Support - Gigabit Ethernet - DVD-Writer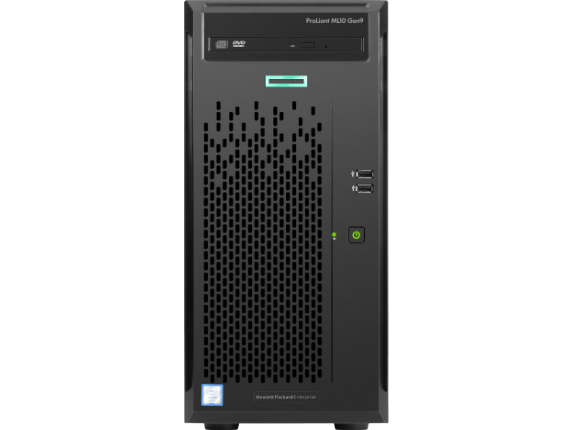 HPE ProLiant ML10 G9 4U Micro Tower Server - 1 x Intel Pentium G4400 Dual-core (2 Core) 3.30 GHz - 4 GB Installed DDR4 SDRAM
HPE ProLiant ML10 Gen9, delivers a full featured single-socket tower server with the right features at a competitive price, easy to use and maintain for growing small businesses and remote branch offices.
Manufacturer
Hewlett Packard Enterprise
Manufacturer Website Address
http://www.hpe.com
Manufacturer Part Number
837826-001
Processor Manufacturer
Intel
Controller Type
Serial ATA/600
Input Voltage
120 V AC
230 V AC
Ethernet Technology
Gigabit Ethernet
Maximum power supply
300 W
Number of Power Supplies Installed
1
Number of Processors Installed
1
Number of Processors Supported
1
Green Compliance Certificate/Authority
EU WEEE
REACH
WEEE
Free shipping & free returns
Ships within 1 business day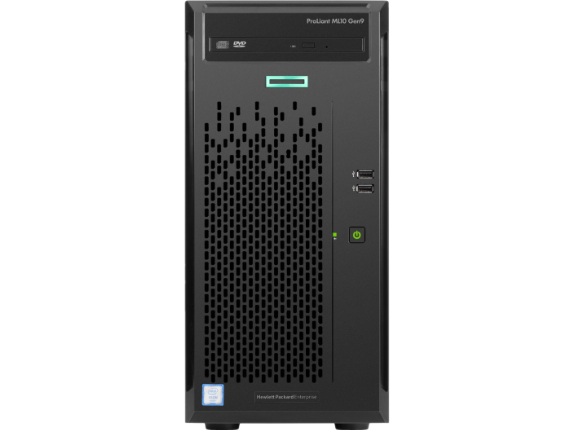 1 Processor Support - 64 GB RAM Support - Gigabit Ethernet - DVD-Writer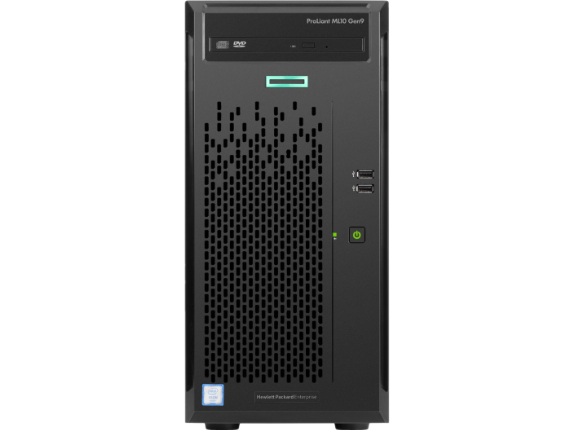 HPE ProLiant ML10 G9 4U Tower Server - 1 x Intel Xeon E3-1225 v5 Quad-core (4 Core) 3.30 GHz - 4 GB Installed DDR4 SDRAM - Seri
Are you searching for an entry-level server solution with performance and reliability for your valuable data to replace a standard desktop unit? The HPE ProLiant ML10 Gen9 Server provides server level performance in a quiet, compact size that is easy to deploy in your home or your small business. It's affordable price will drive you to your first server to replace previous workstation solutions.

The expandability helps to deliver the required workloads and the performance will decrease potential data loss. As the lowest acquisition cost 1P tower in the Hewlett Packard Enterprise server family, the ML10 Gen9 Server is the right choice for your first server.

Features
Low Acquisition Cost with Server Level Performance
The HPE ProLiant ML10 Gen9 Server offers the right server technology for home or small businesses looking for performance and features at an affordable price.
Embedded Intel® AMT Management module with remote console, Web browser GUI and remote power on/off.
Intel chipset supports RSTe SATA RAID disk drives to improve the performance for workloads.
Efficiency and Expandability to Fit the Needs of Growing, Budget-Conscious Businesses
The HPE ProLiant ML10 Gen9 Server offers expandability with internal support for up to six Large Form Factor (LFF) disk drives and increased I/O expansion.
Configured with the Unified Extensible Firmware Interface (UEFI) boot mode allows provisioning both locally and remotely with either Intelligent Provisioning or Scripting Toolkits.
With the optional HPE H241 Smart Host Bus Adapter your get the flexibility to run in HBA mode or simple RAID mode. When operating in simple RAID mode, it provides RAID 0, RAID 1, and RAID 5 with optional HPE Secure Encryption capabilities.
Workstation Oriented Design for Better Performance
The HPE ProLiant ML10 Gen9 Server graphics processing unit (GPU) supports two singl
Manufacturer
Hewlett Packard Enterprise
Manufacturer Website Address
http://www.hpe.com
Manufacturer Part Number
838122-S01
Processor Manufacturer
Intel
Processor Model
E3-1225 v5
Controller Type
Serial ATA/600
Input Voltage
230 V AC
120 V AC
Ethernet Technology
Gigabit Ethernet
Maximum power supply
300 W
Number of Processors Installed
1
Number of Processors Supported
1
Green Compliance Certificate/Authority
WEEE
REACH
EU WEEE
Package Contents
ProLiant ML10 Gen9 E3-1225 v5 4GB-R 1TB Non-hot Plug 4LFF SATA 300W Svr/S-Buy
Power Cord
Free shipping & free returns
Ships within 1 business day
Compare Products (max. 4)
Clear all