₹52,833
(incl. of all taxes)
Check availability at
Delivery estimate to is:
Standard Delivery charge: Free
HP Reverb G2 Virtual Reality Headset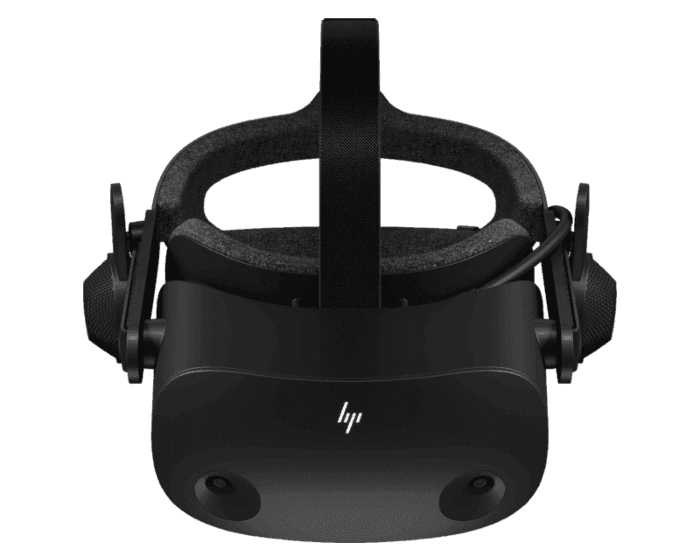 The no-compromise VR headset. Realistic visuals. Immersive soundscapes. Superb tracking and performance. Developed in collaboration with Valve and Microsoft, our breakthrough headset delivers a more immersive experience.[1] Ergonomically designed for comfort. Optimized for compatibility. Introducing the new standard in VR.
• BU IDS HP Reverb G2
• MISC Packaging - STD Reverb V
• Reverb V Controllers
• CKIT Reverb V 20C2 INDIA
• WARR 1/1/1 A/P
Exceptional combination of visuals and sound
Equipped with industry-leading lenses and speakers from Valve, our HMD provides high quality resolution and fully immersive spatial audio. With mura-free, 2160 x 2160 LCD panels per eye, you can now see more detail than ever before.
A headset that adjusts to you
Get maximum comfort for longer wear time. With flexible material, increased cushion size and lenses that can be adjusted for different eye distances[2], each user experiences a custom fit regardless of face size and shape.
More cameras. Better tracking.
With four cameras built into the headset and no external sensors required, you can now track more movement[1] no matter how extreme. And with a smaller and more ergonomic design, our controllers are more natural and comfortable to hold onto.
Compatible across the industry
Looking for access across any and all VR content? With compatibility across both SteamVR and Windows Mixed Reality[3], seamless access to everything VR is now within reach. All with quick and painless setup.
What's in the box
HP VR Headset, 6m headset cable for desktop and mobile PC's, 2 motion controllers, 1 DisplayPort to mini-DisplayPort™ adapter, 1 Power Adapter. Setup document.
More Information
Sku
Sku
1N0T5AA
Weights
Weight
0.55 kg
Dimensions
Dimensions without stand (W x D x H)
7.5 x 18.6 x 8.4 cm
Warranty
Warranty
1 year limited warranty, including 1 year parts and 1 year labor. Terms and conditions vary by country. Certain restrictions and exclusions apply.
Simply follow these 2 easy steps
(1) Make a minimum total purchase of INR5000 on HP products
(2) Tell us in 100 words or less about your personal sustainable efforts integrated into your lifestyle and get a chance to enter the lucky draw! The answer that results in the greatest environmental impact will be picked as winner.
(3)Promotion Valid til 27th June 2021 5pm (IST)
T&C
Rated

5

out of

5
by
RamRTX3090
from
Best clarity VR ever!!
The whole process of preordering was pretty smooth for me. I ordered the VR on April 6th and got it delivered on April 19th (Which is actually really fast considering the fact that it is still on preorder). First impressions the build quality of the headset is really good, the controllers seem a little flimsy but looks classy. Since I own a X570 motherboard I had lot of issues with the connectivity (USB port) so I finally connected the G2 to my monitor which in turn is connected to my PC via USB and it works perfectly. The first thing you will notice is the clarity of the visuals that you see on this headset, its just mind blowing. Even simple games like Superhot VR looks great on the G2. It is a very comfortable headset too, finding the sweet spot is very easy and it does not really bother me wearing it for 2 hours plus. The sound clarity is also really good even though i feel it could have higher volume levels. The controllers are also equally good I have no idea why people on the internet complain about the controllers, they work perfectly well. This is mainly a headset for SIM gaming, Project cars 2, Dirt rally 2 and Squadrons look very realistic (close to real). This is a future proof VR, I have a Geforce 3090 and a AMD 5900x and still I can't the above games on Ultra high graphic settings (as the fps drops to 40-50 which is pretty low for VR games as it gets a little choppy), so this headset requires a very high end PC, but if you have one you wouldn't look for anything else. Only problem is HP India doesn't seem to support the headset (No service in India). If you have an issue you need to contact the HP toll free number which is the only downside.
Date published: 2021-05-04
Rated

5

out of

5
by
Thibaud
from
Definitely recommend
Headset worked right out of the box and the resolution is amazing. Feeling of immersion is great and sound is also very well integrated. Headset is comfortable and I can play games for 30 minutes without too much issues. Definitely recommend.
Date published: 2021-01-12
Rated

2

out of

5
by
James
from
Mask is too small
Face mask is too small and uncomfortable. It becomes more painful with spectacles.
Date published: 2021-01-01
Rated

1

out of

5
by
Darren_D
from
HP reverb G2.....is it worth this much effort!
This is not plug and play and being a rift S owner oculus has this setup beat hands down. My specs for reference Aorus Master X570 motherboard RTX 2080 Super 32GB Ram Ryzen 7 3700x The USB is one of the first issues, none of my onboard USB-C ports worked with this causing audio cut outs and crashes. I had to resort to different USB A ports until I found one that worked. Once that is soleved you expect to be able to jump in and enjoy your games.....think again......and at this point I'd remind you to go back and read my system specs. I've spent the best part of 3 days trying different settings to get games to run at playable levels and the one thing it keeps coming down to is compromise. I'm primarily playing iracing and I'm using medium resolution in the game and then it's a constant back and forth of adjusting the Steam VR resolution, the per app resolution, motion reprojection is the only way I got it to run at above 50-60FPS whereas my rift s was plug and play no messing and ran at max FPS for that headset right away even with 2xSuper sampling. I tried Assetto Corsa Competizone and all I can say is good luck. The other massive negative is the sweet spot is so small that you have to train yourself to keep your eyes fixed on the centre and move your head and eyes together, look away from the sweet spot and you see blurry disappointment. Would I recommend it, no. The panels are good but the headache to setup and the work with SteamVR settings + WMR settings + in game settings + maybe try OpenXR and more settings and that's not forgetting nvidia settings as well as "do I try Overclocking my stupidily expensive graphics card?"
Date published: 2021-01-02
[1] Compared to HP Reverb G1 HMD.
[2] Interpupillary distance (IPD) adjustment is included. Eye relief is not a feature of this product
[3] 4. Windows Mixed Reality requires Windows 10 May 2019 Update installed on the workstation or PC. Features may require software or other 3rd-party applications to provide the described functionality. To minimize the possibility of experiencing discomfort using a VR application, ensure that the PC system is equipped with the appropriate graphics and CPU for the VR application. For HP workstation VR ready recommended configurations, see: http://www8.hp.com/h20195/v2/GetPDF.aspx/4AA6-9646ENW.pdf
Add
Product

No product added to compare list