Tri-color

Ink

Cartridges

250
Periksa ketersediaan di
Perkiraan pengiriman ke :
Standard Delivery charge: Free
Save more with ultra low-cost, high-capacity HP Tri-color ink cartridge—print vibrant color graphics for less money. Get archival output that resists fading, even on plain paper[1]. Enjoy the trusted quality of Original HP cartridges.
HP 703 Tri-color Original Ink Advantage Cartridge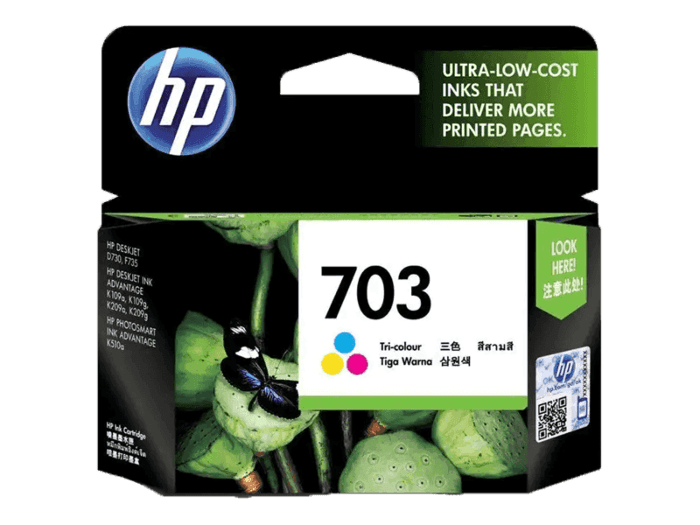 Kartrid Tinta Asli HP
Dapatkan hasil cetakan yang luar biasa
dari rumah dan kantor Anda.
Dapatkan hasil cetakan yang konsisten
Garis yang akurat, detail yang tajam, dan kualitas warna yang kaya.
Kualitas dan keawetan
Hasil cetakan yang cepat kering, tahan air, dan anti-pudar yang bertahan lebih dari 100 tahun.1
Mencetak hampir dua kali lipat
Tinta asli menghasilkan cetakan 180% lebih banyak daripada isi ulang.2
Alasan Harus Membeli Tinta Asli
Andal
Tinta Asli HP berfungsi setiap saat. 64% tinta isi ulang gagal saat digunakan.2
Melindungi printer Anda
Selama pengujian, hingga 31% printer mengalami kerusakan akibat menggunakan tinta palsu.3
Berbahan daur ulang
80% kartrid tinta HP berisi antara 40-75% kandungan daur ulang.4
35 Juta Tetesan
Tinta Asli HP menghasilkan cetakan yang lebih tajam dan lebih cerah untuk foto 4x6 yang sempurna.5
Kecepatan Tinta 2.000x Lebih Cepat
Tinta Asli HP mencapai kertas lebih cepat dari kedipan mata Anda.6
16,5 Juta Kombinasi Warna
Tinta Asli HP dapat menghasilkan jutaan kombinasi warna untuk kualitas pencetakan yang optimal.7
Ramah Lingkungan
HP mengurangi limbah di seluruh dunia dengan mendaur ulang plastik bekas konsumen.4

Keandalan yang teruji
Dapatkan hasil cetak mengagumkan untuk semua kenangan Anda menggunakan Tinta HP Asli yang berkualitas tinggi.

Harga lebih terjangkau
Dapatkan pengalaman yang luar biasa dari hasil cetak yang tahan pudar seumur hidup ketika menggunakan Tinta HP Asli.

Kualitas terbaik
Abadikan lebih banyak momen dengan jumlah halaman lebih banyak dan biaya cetak yang efisien saat Anda mencetak dengan Tinta HP XL asli.
Mencetak dengan Ramah Lingkungan
Hingga 80% kartrid tinta HP Asli saat ini sebagian diproduksi menggunakan bahan plastik daur ulang dari proses closed-loop recycling (CLR)
Save more, using ultra low-cost ink cartridges
Lower your color printing cost per page with this ultra-low-cost HP Tri-color ink cartridge.
High-capacity tri-color cartridge provide up to 250 pages[4] to support high-volume printing needs.
HP proprietary inks prevent corrosion and clogging of the printhead, ensuring the best prints.
Ensure laser-quality text and vibrant color images
Print vivid color graphics and photos, using HP inks.
Archived laser-quality documents retain color quality for decades without fading.[1]
Print images with enhanced detail, using ink technology that delivers an extremely small drop size.
Print instant-dry photos that resist smearing, using HP inks and HP Advanced Photo Paper.
Count on HP for a superior printing experience
Finish a critical job even when a cartridge runs low on ink—printing can be finished with other cartridge.
Cartridge Colors: Tri-color
Print Technology: HP Thermal Inkjet
Page yield colour: ~250 pages
Product type: Standard Capacity Ink Cartridges
Apa yang ada di dalam kotak
Hardware compatibility
HP Deskjet D730 Printer series and HP Deskjet F735 All-in-One series
Syarat & ketentuan promosi
Informasi lebih lanjut
SKU
SKU
CD888AA
Jaminan
Jaminan
HP's ink cartridges and printheads are warranted to be free from defects in materials and workmanship during the period of the warranty. This warranty pertains to the product when used in its designated HP or authorized OEM printing device. HP will, at HP's option, either refund the purchase price or replace products that prove to be defective. Visit the HP online support web site http://www.hp.com/support for a list of support phone numbers and conditions or return to your point of purchase.
Jaminan
HP's ink cartridges and printheads are warranted to be free from defects in materials and workmanship during the period of the warranty.
Lingkungan
Storage temperature range
-40 to 60°C
Recycled material content
50%
Non-Operating Humidity Range
20 to 80% RH
Operating temperature range
15 to 32°C
Operating humidity range
20 to 80% RH
Nama Produk
Product type
Standard Capacity Ink Cartridges
Kesesuaian
Hardware compatibility
HP Deskjet D730 Printer series and HP Deskjet F735 All-in-One series
Kartrid dan Printheads
Technology
Ink
Supply type
Cartridges
Cartridge color
Tri-color
Page yield (colour)
~250 pages
Ink drop
1.3 pl, 4.7 pl
Yield
250
Subgroup
Standard Capacity Cartridges
Color(s) of printing supplies
Tri-color
Print head nozzles
1248
Ink types
Dye-based
Printhead swath (inch)
0.33 in
Print cartridge volume delivered
4 ml
Spesifikasi Printer
Print technology
HP Thermal Inkjet
Bobot
Package weight
0.06 kg
Berat
35.94 g
Media Cetak
Shelf life
18 months
Ukuran
Dimensions without stand (W x D x H)
100 x 116 x 37 mm
Package dimensions (W x D x H)
100 x 116 x 37 mm
Penampilan
Warna
Tri-color
Syarat & ketentuan promosi
[1] Based on paper-industry predictions for acid-free papers and Original HP inks; colorant stability data at room temperature based on similar systems tested per ISO 11798 and ISO 18909.
[4] Yield varies considerably based on content of printed pages and other factors. See http://www.hp.com/go/learnaboutsupplies
Tambahkan
Produk

Tidak ada produk yang ditambahkan ke daftar perbandingan