To top
A classic-style advanced 2.4 GHz wireless keyboard and mouse that excels when it comes to simplicity and comfort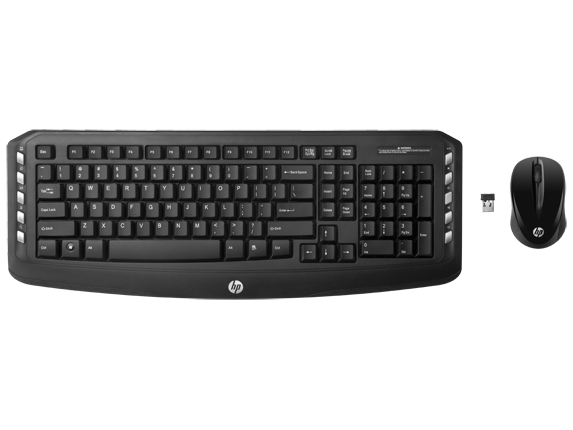 Wireless nano receiver with 2.4 GHz wireless that is so small you can plug in and never have to take it out
5 multimedia controls - 3 buttons for easy volume control
Instantly launch computer, internet, email, on-screen calculator, or search - Easy access with one touch controls
Integrated number pad for effortless data entry
Adjustable keyboard height with 2 positions
---
Return & exchange information
HP.com will accept returns or exchanges for this product up to 30 days after delivery.
Compatible across all notebook and desktop platforms with Windows XP/Vista/7/8.
Minimum system requirements
Keyboard: 18.31 x 6.87 x 1.43 in; Mouse: 3.75 x 2.29 x 1.4 in; Dongle: 0.75 x 0.58 x 0.25 in
Keyboard: 1.15 lb; Mouse: 0.18 lb; Dongle: 0.06 oz
1 Year, worldwide parts and labor limited warranty; HP technical support may vary depending on your geographic location.
HP Wireless Classic keyboard; Wireless 3-Button Optical Mouse; USB Wireless Nano receiver; 4 AAA Battery; Documentation
Return & exchange information
HP.com will accept returns or exchanges for this product up to 30 days after delivery.
Free shipping & free returns
Save 20% instantly, ends 2/25
Product reviews
Rated

2

out of

5
by
Missythecat
from
Why I would say yes & no to this
I love the features this keyboard has & mouse is okay. So that is for yes. As for No, The ink on the keys wears off really quick on most used keys. No way to replace the lettering, frustrating. Slow to no response on some keys, especially space bar. I like this product because I trust it to work with my HP desktop. Others give me problems. How hard would it be for HP to actually fix these things and keep your reputation for great products? Thanks. Still need a new keyboard & mouse...
Date published: 2017-02-02
Rated

1

out of

5
by
rickydo666
from
Didnt last long
I bought this keyboard and mouse and a desktop and this keyboard started acting up. I would scroll the mouse wheel and it would go the direction I wanted and then would back the other way. I tried new batteries and the reset buttons on the keyboard and mouse to no avail. I didn't find the warranty on it tho.
Date published: 2017-01-13
Rated

1

out of

5
by
moonna
from
Horrible experience ( sorry to say )
Extremely slow mouse , miss the clicks frequently ( i know , you'll mention about battery , background software running etc etc. ) Keyboard miss the typing frequently . i have gone through the troubleshooting mentioned here , have tested with different machine , but no luck for me.
Date published: 2016-12-29
Rated

2

out of

5
by
TheCrystalKidHD
from
Needs Better Features
the price is $25 reasonable for the mouse combo. the keyboard needs light indicating and the buttons are ok the mouse needs betterpalm rest and i am only getting used to the accuracy also needs further wireless connections.
Date published: 2016-11-10
Rated

2

out of

5
by
Edu23
from
No documentation for 10 keys on the sides
Keyboard and mouse seem to work fine. But they came without any documentation that would explain you what are the 10 metallic-looking keys on both sides of the keyboard. Do I need to waste my precious time looking in Google what purpose have those keys? Are they only as ornaments for the keyboard to look prettier?
Date published: 2016-10-29
Rated

2

out of

5
by
Pete915
from
not good
Keyboar does not apture all letters <- exmpe to the left!! have to pound on keyboard to get al etters t work. Mouse does not scroll correctly, jumpy. not good and frustrating!
Date published: 2016-10-21