To top
Give your business the strong foundation it needs for growth with the affordable and reliable HP ProDesk 400 MT. Designed with essential security and manageability features, the HP ProDesk 400 helps keep your business growing.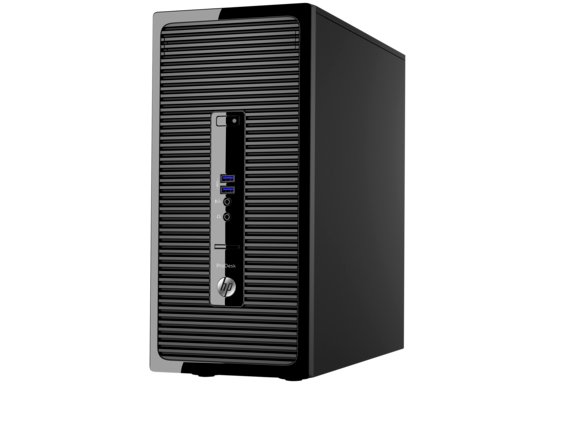 HP BIOSphere[3] and HP Client Security[4] boost security and keep critical data and systems under lock and key with customizable authentication and BIOS-level passwords.
Tested to go the distance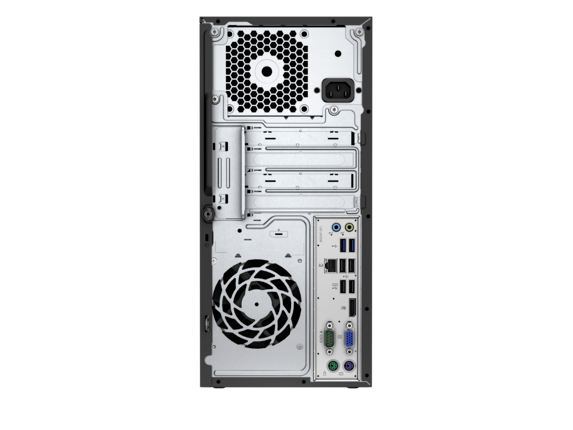 Tested to go the distance
HP ProDesks are rigorously tested to help ensure reliability. During the HP Total Test Process, PCs experience 120,000 hours of performance trials to help get you through your business day.
Make the smart investment
The HP ProDesk 400 MT helps affordably build a solid IT infrastructure for your growing business with scalability in major components that allow you to configure the right PC for each user.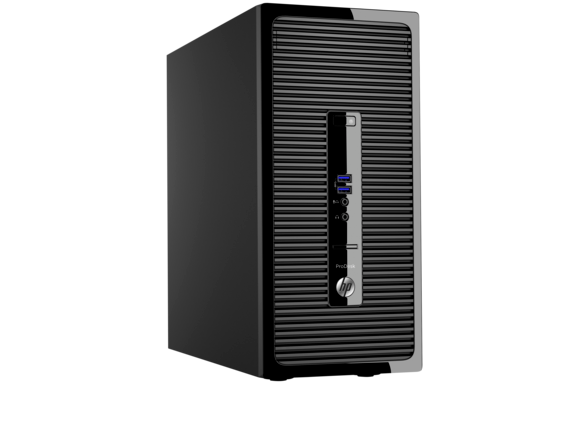 The HP ProDesk 400 MT helps affordably build a solid IT infrastructure for your growing business with scalability in major components that allow you to configure the right PC for each user.
---
Return & exchange information
HP.com will accept returns or exchanges for this product up to 30 days after delivery.
Windows 7 Professional 64 (available through downgrade rights from Windows 10 Pro 64)
Intel® Core™ i3-6100 with Intel HD Graphics 530 (3.7 GHz, 3 MB cache, 2 cores)
4 GB DDR4-2133 SDRAM (1 x 4 GB)
Slim SATA SuperMulti DVD-RW
Intel® Ethernet I210-T1 PCIe x1 GbE network interface card (optional); Integrated Realtek GbE
180 W, up to 85% efficient, active PFC; 300 W, up to 85% efficient, active PFC
2 USB 3.0; 1 headphone; 1 microphone; 1 SD 3 card reader (optional)
Front
Back
2USB 3.0; 4 USB 2.0; 1 serial; 1 serial (optional); 1 parallel (optional); 2 PS/2 (keyboard and mouse); 1 VGA; 1 DisplayPort; 1 audio line in; 1 audio line out; 1 RJ-45
1 full-height PCIe 3 x16; 3 full-height PCIe 2 x1
DTS Sound+™ audio management technology, HD audio with Realtek ALC221VB codec (all ports are stereo), microphone and headphone front ports (3.5 mm), line in and line out rear ports (3.5 mm), multi-streaming capable, internal speaker
3-year (3-3-3) limited warranty and service offering includes 3 years of parts, labor and on-site repair. Terms and conditions vary by country. Certain restrictions and exclusions apply.
HP business PCs are shipped with a variety of software titles including: HP Drive Encryption, HP Client Security, HP Security Manager, Microsoft Security Essentials, CyberLink Power DVD BD, Native Miracast support, HP ePrint Driver, HP Recovery Manager. Please refer to this product's quick spec document for a full list of preinstalled software.
Trusted Platform Module SLB9670TT1.2FW4.40 (TPM) 1.2 Common Criteria EAL4+ certified, field upgradeable to 2.0; SATA port disablement (via BIOS); RAID configurations; Serial, parallel, USB enable/disable (via BIOS); Optional USB port disable at factory (user configurable via BIOS); Removable media write/boot control; Power-on password (via BIOS), Setup password (via BIOS); HP Chassis (1 bay) Security Kit; Support for chassis padlocks and cable lock devices
[1] Not all features are available in all editions or versions of Windows. Systems may require upgraded and/or separately purchased hardware, drivers, software or BIOS update to take full advantage of Windows functionality. Windows 10 is automatically updated, which is always enabled. ISP fees may apply and additional requirements may apply over time for updates. See http://www.microsoft.com
[2] This system is preinstalled with Windows 7 Professional software and also comes with a license and media for Windows 10 Pro software. You may only use one version of the Windows software at a time. Switching between versions will require you to uninstall one version and install the other version. You must back up all data (files, photos, etc.) before uninstalling and installing operating systems to avoid loss of your data.
[3] Multi-Core is designed to improve performance of certain software products. Not all customers or software applications will necessarily benefit from use of this technology. 64-bit computing system required. Performance and clock frequency will vary depending on application workload and your hardware and software configurations. Intel's numbering is not a measurement of higher performance.
[4] For storage drives, GB = 1 billion bytes. TB = 1 trillion bytes. Actual formatted capacity is less. Up to 16 GB (for Windows 7) and up to 36 GB (for Windows 8.1 and 10) of system disk is reserved for system recovery software.
[5] Duplication of copyrighted material is strictly prohibited. Actual speeds may vary. Double Layer media compatibility will widely vary with some home DVD players and DVD-ROM drives. Note that DVD-RAM cannot read or write to 2.6GB Single Sided/5.2 Double Sided-Version 1.0 Media.
[6] With Blu-Ray drive XL, certain disc, digital connection, compatibility and performance issues may arise, and do not constitute defects in the product. Flawless playback on all systems is not guaranteed. In order for some Blu-ray titles to play, they may require an HDCP path and HDCP display. HD-DVD movies cannot be played on this BDXL Drive.
[7] Wireless cards are optional or add-on features and require separately purchased wireless access point and internet service. Availability of public wireless access points limited. The specifications for the 802.11ac WLAN are draft specifications and are not final. If the final specifications differ from the draft specifications, it may affect the ability of this desktop PC to communicate with other 802.11ac WLAN devices.
[8] HD content required to view HD images.
[9] Optional or add-on feature.
[10] HP ePrint requires an Internet connection to HP web-enabled printer and HP ePrint account registration (for a list of eligible printers, supported documents and image types and other HP ePrint details, see www.hp.com/go/businessmpobileprinting). HP PageLift requires Windows 7 or higher.
[11] Microsoft Security Essentials requires Windows 7 and internet access.
[12] Miracast is a wireless technology your PC can use to project your screen to TVs, projectors, and streaming media players that also support Miracast. You can use Miracast to share what you're doing on your PC and present a slide show. Miracast is available for Windows 8 and Windows 10. For more information: http://windows.microsoft.com/en-us/windows-8/project-wireless-screen-miracast.
[13] This product ships with TPM 1.2 with option to upgrade to TPM 2.0. Upgrade utility is expected to be available by the end of 2015 via HP Customer Support.
[14] EPEAT® registered where applicable. EPEAT registration varies by country. See www.epeat.net for registration status by country.
[15] External power supplies, power cords, cables and peripherals are not low halogen. Service parts obtained after purchase may not be low halogen.
[17] NOTE: Your product does not support Windows 8 or Windows 7. In accordance with Microsoft's support policy, HP does not support the Windows 8 or Windows 7 operating system on products configured with Intel and AMD 7th generation and forward processors or provide any Windows 8 or Windows 7 drivers on http://www.support.hp.com.
Return & exchange information
HP.com will accept returns or exchanges for this product up to 30 days after delivery.
Top match for your Desktops