To top
Why settle for one excellent device, when you can have two for a great price? The HP Wireless Elite v2 Desktop combines a modern, high-end keyboard with a standard size mouse that matches perfectly. You'll love typing on the ultra-slim keyboard because it's amazing to the touch. And the mouse? It's comfortable and highly functional.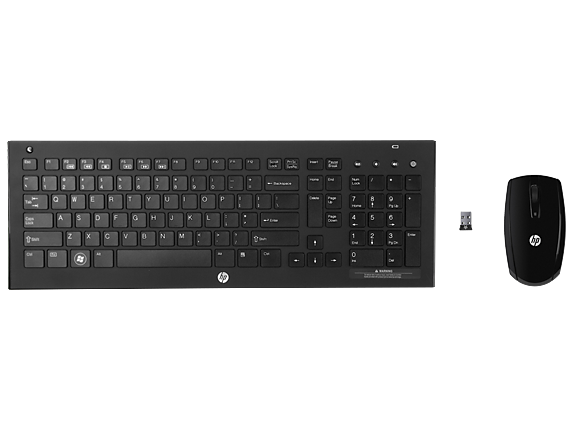 Wireless Freedom x2: HP built the Wireless Elite v2 Desktop with your need to roam in mind. Compatible with most desktops and notebooks, 2.4GHz wireless connections give you the liberty to move up to 30ft (10m) away and still work! Plus, the battery life indicator lights never leave you guessing.
Mouse Included Too: It's a match made in heaven. Comfortable, standard size mouse complements the elite keyboard perfectly. It's a great fit for both right and left hands. Scroll wheel advances efficiency to make your work easier. Plus, equipped with a 1,000 dpi optical sensor, this highly-functional mouse works on most surfaces.
High-end Keyboard Design: HP's Wireless Elite v2 Desktop screams modern. Sleek, clean lines create the ideal, ultra-slim keyboard shape. Typing feels amazing with the quiet, low-profile keys that are extra pleasing to the touch. Scissor-style keycaps are super responsive for quicker typing. Plus, angle/height adjustable legs promote a more comfortable wrist posture.
---
Return & exchange information
HP.com will accept returns or exchanges for this product up to 30 days after delivery.
Compatible across all notebook and desktop platforms with Windows XP/Vista/7/8
Minimum system requirements
Available USB port; Compatible with Microsoft® Windows® XP and Vista/7
Keyboard: 17.28 x 6.02 x 0.61 in; Mouse: 4.53 x 2.5 x 1.4 in; Nano Dongle: 0.74 x 0.57 x 0.24 in
Keyboard: 1.54 lb; Mouse: 0.26 lb; Nano Dongle: 0.004 lb
One-year, worldwide parts-and-labor limited warranty; 24x7 HP technical phone support during warranty period
HP Wireless keyboard; HP Wireless mouse; USB Wireless Nano receiver; 2 AAA and 2 AA Battery; Documentation
Return & exchange information
HP.com will accept returns or exchanges for this product up to 30 days after delivery.
Free shipping & free returns
Save $5 instantly, ends 1/21
Product reviews
Rated

1

out of

5
by
mpedroia
from
Wireless Connection - Weak
I "upgraded" my HP wireless keyboard/mouse when I upgraded to a new HP Envy PC. The new mouse works intermittently, meaning I move it but it does not move the pointer. I discovered that moving the wireless dongle to the front of the PC improved it somewhat (but now I have to leave the sliding PC door open - dust issue). So, the keyboard works fine, it's 36" from the dongle but the mouse at 57" (direct line of sight) is sketchy and frustrating. If I move the mouse to the left hand (which is a total pain in the butt to operate) it works just fine (25" away from dongle).... So, if you have a laptop where the USB dongle will be in the immediate area of the keyboard/mouse, you should be fine but any distance or obstruction when installing the dongle in the PC is probably going to be disappointing. Sad, my "old" HP wireless keyboard/mouse worked just fine in this same configuration. I notice the dongle was more substantial, possibly more powerful. Regardless, this combination (mouse/keyboard) is not working for me so I'll be searching for another solution (hardware)
Date published: 2017-01-15
Rated

5

out of

5
by
ChevyandMonte77
from
This keyboard and mouse is really nice
The keyboard works very good. The buttons are very easy to push and overall this is a great keyboard and mouse, very easy to use
Date published: 2016-11-24
Rated

5

out of

5
by
Holger
from
Best keyboard I've ever owned!
Super solid build quality. The keys don't wobble and bounce causing mistypes. I type reports all day long and not having to correct my clumsy fat finer mistakes is a huge help. Could use a Caps Lock indicator light but that about it. Really well done HP!
Date published: 2016-10-24
Rated

1

out of

5
by
Elling1
from
non-functioning keyboard
New out of the box, the mouse works great but the keyboard does not work as far as I can tell. Put new batteries in unit and it still acts like a brick.
Date published: 2016-10-01
Rated

5

out of

5
by
Keyboy
from
Nice quiet keyboard
Worked great right out of the box. Been using it for two years with no problems. Keyboard is thin light and sturdy. I searched a long time for a quiet keyboard. My wife hated it when I was using my PC. It is even as quiet as some laptops. There are no lights for the cap key. The key layout is excellent, easily converted to this from several other pc and laptops. Only problem was one of the retractable legs snapped off. Not certain how or why. One of the divets broke. No complaints a good buy..
Date published: 2016-09-06
Rated

1

out of

5
by
Phil38
from
Never buy... Very cheap...
Very cheap looking an useless... Battery cover on keyboard won't stay on... Won't set level... Mouse has no side inputs and very cheap cover... They worked for an afternoon then they fell apart.. Had to tape it back together... Very bad product from HP...
Date published: 2016-08-26