To top
HP Wireless Classic Desktop
Free shipping & free returns | Save $3 instantly, ends 2/13
A classic-style advanced 2.4 GHz wireless keyboard and mouse that excels when it comes to simplicity and comfort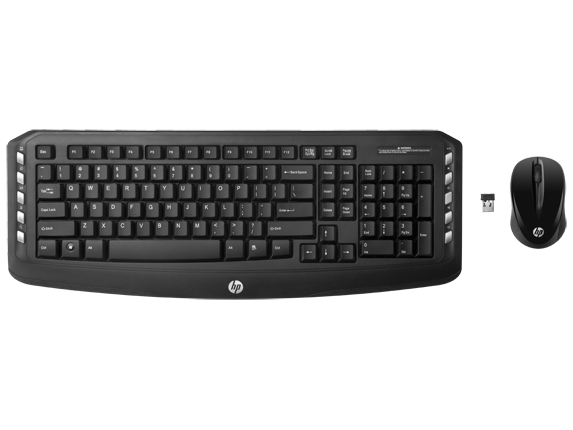 Wireless nano receiver with 2.4 GHz wireless that is so small you can plug in and never have to take it out
5 multimedia controls - 3 buttons for easy volume control
Instantly launch computer, internet, email, on-screen calculator, or search - Easy access with one touch controls
Integrated number pad for effortless data entry
Adjustable keyboard height with 2 positions
---
Return & exchange information
HP.com will accept returns or exchanges for this product up to 30 days after delivery.
Compatible across all notebook and desktop platforms with Windows XP/Vista/7/8.
Minimum system requirements
Keyboard: 18.31 x 6.87 x 1.43 in; Mouse: 3.75 x 2.29 x 1.4 in; Dongle: 0.75 x 0.58 x 0.25 in
Keyboard: 1.15 lb; Mouse: 0.18 lb; Dongle: 0.06 oz
1 Year, worldwide parts and labor limited warranty; HP technical support may vary depending on your geographic location.
HP Wireless Classic keyboard; Wireless 3-Button Optical Mouse; USB Wireless Nano receiver; 4 AAA Battery; Documentation
Return & exchange information
HP.com will accept returns or exchanges for this product up to 30 days after delivery.
Free shipping & free returns
Save $3 instantly, ends 2/13
Product reviews
Rated

1

out of

5
 by
frustratedinkc
You'll be sorry
Junk, junk, and more junk. A waste of money. Doesn't work properly. It will make you want to destroy something because of the number of times you have to click mouse and or keyboard.
January 17, 2016
Rated

1

out of

5
 by
bigred814
It is Junk. No way around.
JUNK do not buy. Will be sorry.
January 5, 2016
Rated

5

out of

5
 by
wwstorm
Love it!!!!!!
I love this keyboard because of the fantabulous features it has. My hands are very shaky so I love being able to use the side buttons to copy/cut and paste, turn the volume up and down or completely off, etc.... I won't buy (or use) a different keyboard + mouse.
January 1, 2016
Rated

2

out of

5
 by
Jones888
Like the keyboard and features but
Cant tell when cap lock is on or off there is no light to indicate. Difficult when typing in passwords with varying characters (!#19L)
August 12, 2015
Rated

4

out of

5
 by
Speakeasy5
Love the ease of use.
This keyboard has the silver buttons going down on both the right and left side. There's no information sheet with it that says what they're for. They have pictures under them. VERY difficult to see. Being computer "unliterate", is there a form that shows the keyboard, identifying these keys and what they are for? I don't understand why products don't come with manuals or information sheets to make their immediate use helpful. Please respond. Thanks.
July 6, 2015
Rated

5

out of

5
 by
RL34
Great value for the $$$ !
I purchased two of these keyboard combos. I'm currently in college and cannot afford to lose functionality with my current HP computer. One thing to note with this keyboard, it does NOT have a soft touch. If that is important to you, this is not the keyboard and mouse set for you. The keys are stiff and you can strike them with a firm touch and they still respond. Glad I bought this set; when this set is worn out, I have another waiting in the closet!!
September 9, 2014