To top
A classic-style keyboard that excels when it comes to simplicity and comfort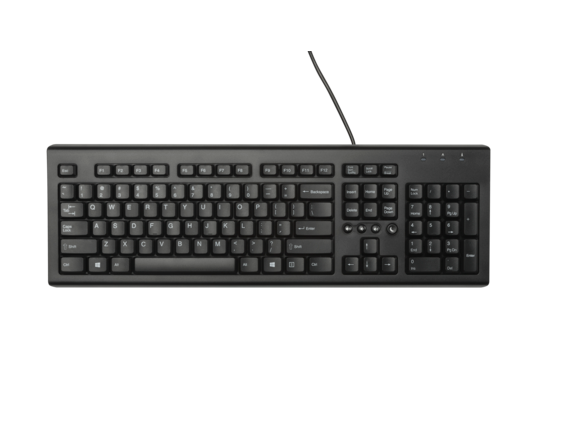 Simplicity - Simplify your workload. The keyboard features all the standard keys and is easy to set up
Comfort - Enjoy soft-touch typing with responsive keys that are quiet and feel great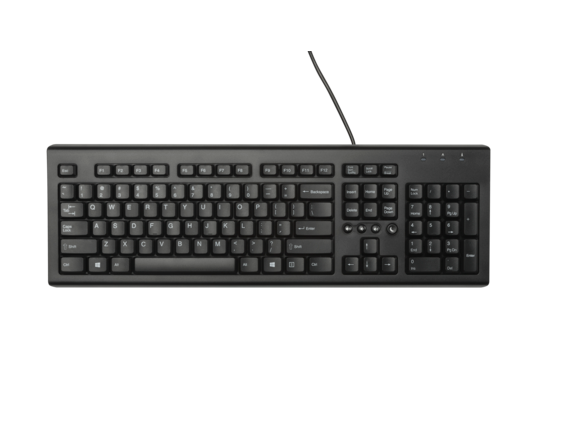 Comfort - Enjoy soft-touch typing with responsive keys that are quiet and feel great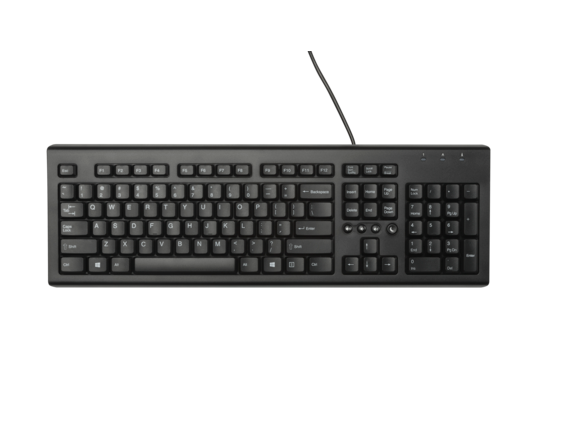 Stylish Durability - Enhanced solid keyboard construction with longer-lasting printing on the keys, all in a glossy black look
Spill-resistant Keyboard - Liquids drain directly out of the keyboard, protecting your keyboard and eliminating worries about accidental spills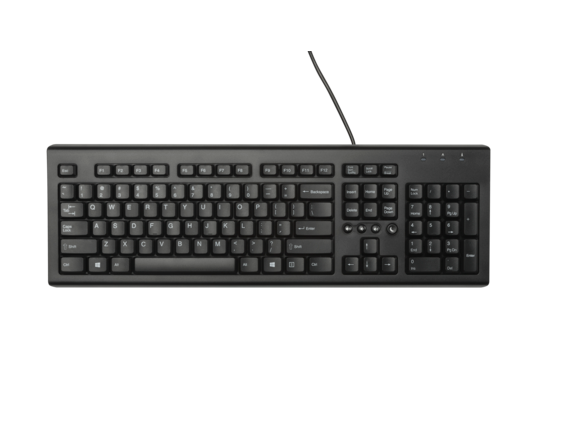 Spill-resistant Keyboard - Liquids drain directly out of the keyboard, protecting your keyboard and eliminating worries about accidental spills
---
Return & exchange information
HP.com will accept returns or exchanges for this product up to 30 days after delivery.
Multimedia buttons: Sleep button, volume control and the instant access to Windows
Compatible with HP PCs and non-HP PCs with Windows XP/Vista/7/8
Compatible operating systems
Microsoft Windows 2000/XP/Vista/7/8
Minimum system requirements
Available USB port; CD-Rom Drive
One-year, worldwide parts-and-labor limited warranty; 24x7 HP technical phone support during warranty period
HP Classic Keyboard; Software CD and Documentation; One-year limited warranty
Return & exchange information
HP.com will accept returns or exchanges for this product up to 30 days after delivery.
Free shipping & free returns
Save 25% instantly, ends 1/21
Product reviews
Rated

4

out of

5
by
EMO110
from
Durable, responsive keyboard at a great price
Have been using this keyboard for years. Tried ergonomic keyboards by they where too bulky for my home workstation. The HP Classic fits much better. Letters on the keys have been fading, but not much of a problem if you know how to type. People have actually commented on how fast I type since I started using this keyboard. That being said, I'm still looking for a reasonable priced keyboard with the number pad on the left, or a least a detachable number pad. Which, apparently, HP does not make any more. But this has been my one complaint of all keyboards. Would prefer to keep the full set of navigation keys on the right, move the number pad to the left, and then the keyboard is centered between the two. Then I wouldn't have to reach so far for the mouse and/or slide the keyboard out of the way. Being somewhat ambidextrous I'm sure I could adjust. Would just love this keyboard if it was offered with that setup!
Date published: 2016-06-03
Rated

5

out of

5
by
Hildegard
from
The best keyboard at a fabulous price.
An HP keyboard came with my computer. I type fast, and this keyboard was absolutely perfect. When it quit after years of use, I tried several different kinds and brands of keyboards and hated all of them. I went to HP to replace my original beloved keyboard and discovered to my surprise that the keyboard was amazingly inexpensive. I am thrilled to have my fabulous HP keyboard back!
Date published: 2016-05-16
Rated

1

out of

5
by
eightpassanger
from
Picture at Web Store is deceiving...
The actual product I just received has a different keys distribution than the one shown in the web store pictures. Precisely because the image shown was the reason why I bought this keyboard. Actually I bought six of them. Unfortunately the photos are deceiving and they should be reviewed by the web master. The product number is the same as shown, the keys distribution is not, that is other thing to fix. Now I have to make the whole returning process.
Date published: 2015-11-07
Rated

4

out of

5
by
maniacfrank
from
good product
I bought this to replace a wireless board that died, it worked great
Date published: 2013-05-21
Rated

4

out of

5
by
Rl6743
from
This product is good for the money
A very nice soft touch keyboard for the cost
Date published: 2013-01-11
Rated

5

out of

5
by
LadyM
from
What a relief!
When my original wired HP keyboard went on the blink, I purchased a wireless keyboard (not an HP). It was a pain because the wireless thing I had to plug into the USB kept getting misplaced; had to keep an eye on the battery level; and if my wireless went out I was stuck. Took a chance to see if I could still purchase a wired keyboard and, to my relief, I could. It is much easier to use since it is so basic (I did not need all the bells and whistles on the wireless), the touch is comfortable and I do not need to pound they keys. If my wireless goes out, I can still type. In general, I am much happier with the wired keyboard. In fact, I may purchase another just to have a spare. As always, Hewlett Packard came through for me again.
Date published: 2013-01-11