To top
Writing, drawing, and navigation is easy and accurate with the thin tip and hovering capabilities of the HP Active Stylus. This intuitive digital pen flows smoothly over the surface of select HP touch screen computing devices.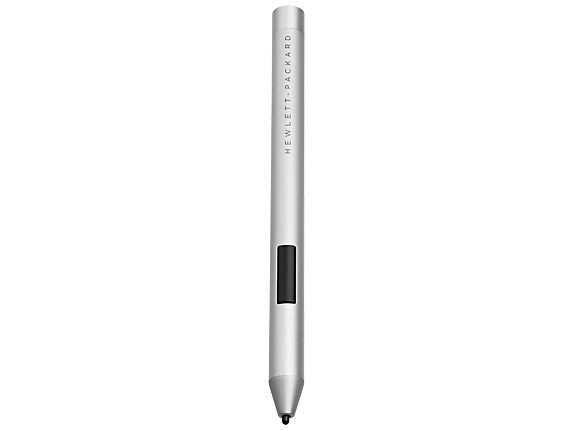 Eliminate fingerprints and smudges with the precision control of an active digital stylus. Write and draw as a pen, with the advantage of a convenient programmable button.
No hole or clip to align. The magnetic snap designed stylus is conveniently portable and easily attaches to the metal frame or cover.
For accuracy and comfort, switch from hovering a few millimeters away to tapping or writing on the screen with the programmable in-line button.
---
Return & exchange information
HP.com will accept returns or exchanges for this product up to 30 days after delivery.
HP 1-year limited warranty
Stylus; 1 AAAA battery; Quick start guide; Warranty card
Return & exchange information
HP.com will accept returns or exchanges for this product up to 30 days after delivery.
Free shipping & free returns
Save 10% instantly, ends 1/21
Product reviews
Rated

1

out of

5
by
BERN16
from
DO NOT BUY!
I just bought the stylus and I HATE IT! I am upset that I spent so much money, waited, then the stylus didn't even work with my HP Pavilion x360 laptop. AND it said it did on the HP website. THIS HAS BEEN THE WORST EXPERIENCE EVER!! Do Not Buy IT!!!!!!!!
Date published: 2017-01-11
Rated

5

out of

5
by
mason91
from
Works Great
I've noticed that other reviews say that the Active Stylus isn't compatible with their computer or tablet or works poorly, but in my experience, it is compatible with my Spectre x360 15t i7 without having to download any drivers, and I love using it more than using the surface pen with my old Surface Book. When I first opened the Stylus, I did have to push down harder to get it to register, but that went away after a few uses. I do sometimes find myself pressing the erase button when I'm drawing, but it is very rare, and to avoid it, you just have to position your hand correctly. Overall, as one of the only styluses compatible with the HP Spectre x360, the HP Active Stylus works amazingly and should be praised in the Hewlett Packard world.
Date published: 2017-01-10
Rated

3

out of

5
by
JonInBoston
from
Works, but not up to snuff
I bought this pen to use with my first Spectre x360 13", and now I use it with my new 15". The experience is about the same: it works, but the line isn't smooth. I also had to download new drivers because Windows 10 didn't support ink for a while - that's been solved in the anniversary update. When it comes down to it, this stylus is workable for taking notes or drawing circles on charts. The line doesn't look nice, and it's far inferior to the results I got with my Fujitsu laptops over the years, but, I use it.
Date published: 2017-01-03
Rated

1

out of

5
by
Taswegian
from
Not much use at all. Disappointed
Bought this for my Spectre X360. Having used S Pen on Samsung tablets and phone I assumed this would be similar, but superior. A hard (Hard) press is needed to do anything. And drawing in graphics (Canvas) isn't a pleasant experience. One of main reasons for Spectre was touch screen and a stylus. Spectre is very good. Stylus No! HP staff need to know their products. I wouldn't recommend their support either.
Date published: 2016-12-29
Rated

1

out of

5
by
Reveiwer924
from
LITERALLY DOES NOT WORK! COMPLETE WASTE
I bought this for my son as a gift and we were both furious when we opened it, put the batteries in and found that it didn't work. We paid 53 dollars for a hunk of metal that has no use. My son loves to draw on his touch screen computer and they don't even say what kind it work with. We ended up checking the instructions and looking things up for a while. COMPLETE WAIST OF TIME AND MONEY
Date published: 2016-12-27
Rated

1

out of

5
by
BlackBloodRoyals
from
Hard To Use
I saw the reviews right here and was very happy to read that this stylus worked with my HP Envy x360 mine is HPEnvy x360 Marshmellow M6-AQ105DX, I was even told by the best buy reps that the stylus would work with my laptop, but when the stylus came in and I tested it on my laptop, it didn't work. I contacted the HP reps and asked why it wasn't working and they told me that it's because this laptop is 2016 new version and the stylus pen doesn't work on the new version of HP Envy x360. Anyways I had to go to BestBuy and exchange it to HP Spectre x360 of 2015 version so that I could use the pen, so it doesn't even work on HP Spectre of 2016 because I've tested it on all hp laptops in BestBuy it only worked with the spectre that has the moon symbol on C, but even then the pen is bad. It doesn't register unless you press the pen really hard, which means you have constantly keep it at that pressure level for it to continuously register, whereas other N=trig or Wacom pens register the moment the pen touches the screen and then it's up to you if you wanna apply pressure or not. Another thing you don't know which laptop this pen works with, reps don't know, HP doesn't know which laptop works with what pen they made, a nightmare lol
Date published: 2016-12-26