To top
Writing, drawing, and navigation is easy and accurate with the thin tip and hovering capabilities of the HP Active Stylus. This intuitive digital pen flows smoothly over the surface of select HP touch screen computing devices.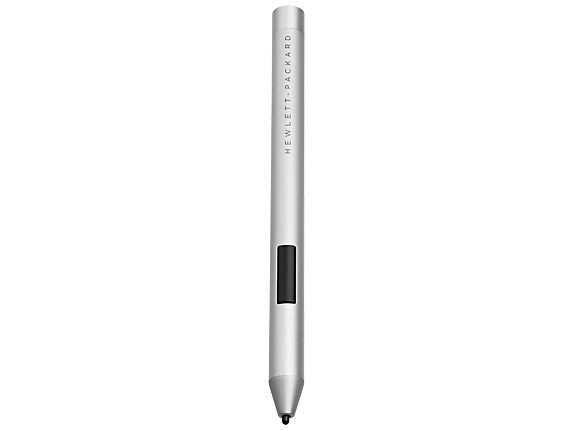 Eliminate fingerprints and smudges with the precision control of an active digital stylus. Write and draw as a pen, with the advantage of a convenient programmable button.
No hole or clip to align. The magnetic snap designed stylus is conveniently portable and easily attaches to the metal frame or cover.
For accuracy and comfort, switch from hovering a few millimeters away to tapping or writing on the screen with the programmable in-line button.
---
Return & exchange information
HP.com will accept returns or exchanges for this product up to 30 days after delivery.
HP 1-year limited warranty
Stylus; 1 AAAA battery; Quick start guide; Warranty card
Return & exchange information
HP.com will accept returns or exchanges for this product up to 30 days after delivery.
Free shipping & free returns
Compatible with HP Spectre x360
Save 10% instantly, ends 10/22
Product reviews
Rated

4

out of

5
 by
Seb07
Great features
The pen has a selection of features that make using the pen easy and natural. The magnet however is very weak, so it is inconvenient to carry around. The pen tip appears to not always spring back as it makes a line without any force, but it just needs to used and it works perfectly.
September 29, 2016
Rated

1

out of

5
 by
Curtis13
Works Great...for a month
I bought this back in June when I bought my new HP Spectre x360. The stylus worked great for about a month, but then stopped working entirely. Even the app click portion will not press as it used to. The computer does not recognize it and won't allow anything to be done through the pen. Only fingers work. Would not recommend, especially at the price.
September 2, 2016
Rated

1

out of

5
 by
PAStudent
This product is not worth the investment
I purchased this pen to use with the HP Spectre x360 because the HP website reported that this pen would work on this computer. The pen worked great for about 6-8 weeks. Then it stopped working. I have replaced the batteries multiple times, and this has no effect. I can randomly get the pen to work maybe 1-2 times a week, but I am not sure why it decides to work at that time. As a full time PA student, I need the pen to work consistently. I have not been able to get HP customer service to help me resolve the problem.
July 25, 2016
Rated

1

out of

5
 by
jrodgers
HP Envy x360
I recently purchased a HP Envy x360 M6 convertible, m6-aq005dx (model number). I already owned an HP Active Stylus - worked great with my HP ENVY 2in1 with detachable keyboard (unfortunately this model was plagued with keyboard problems - such as losing connectivity). But the pen worked flawlessly with it and I was able to use it to take notes. I have spoke to about five different HP tech reps and salespeople, half of which say this stylus will work and half of which say it will not. I just got off the phone with a HP tech rep who stated there was no compatible stylus with this particular model. Why would anyone design a convertible laptop without a stylus for use in taking notes (I use One Note). Is this the level of design we can expect from HP from now on? I will return this product and buy a brand that will allow use of a digital / smart stylus for taking notes. And go with a brand where the tech representatives can answer a simple question as to what stylus will work.
July 6, 2016
Rated

1

out of

5
 by
Keydiddy
Come'on Man!! Horrible.
This is a serious joke. For what I paid for my HP Spectre 360 I would have liked a pen that works like the one on my Note 5 phone or better. This pen is crazy expensive and it needs a battery. You have no way to tell when it shuts off so you go through batteries like crazy. Besides that the pen or stylus itself is horrible as well. Please make a pressure sensitive better stylus for us. Please. And make it cheaper. Actually, just send us one because this was a huge jip. I was told that this was the only one that worked with my computer also so that is why I bought it.
June 8, 2016
Rated

1

out of

5
 by
Amina
Awful Product
This product is horrible. First off it is not worth the money. I've messed with the settings and tried about 5 programs to draw with this pen, including OneNote and Fresh paint. The pen does not write smoothly at all. I've tried to draw with it and the lines were just awful. Nothing would smooth out the lines, and it has weird small bumps and curves in the line. Even just writing with it is bad. Not only that, but you have to press too hard to actually write anything. Just a bad experience, I would not recommend buying this. The lines drawn with my finger and mouse were smoother and better than drawing with the pen.
May 31, 2016