To top
Compact speakers with subwoofer gives you rich, full bass to maximize your audio experience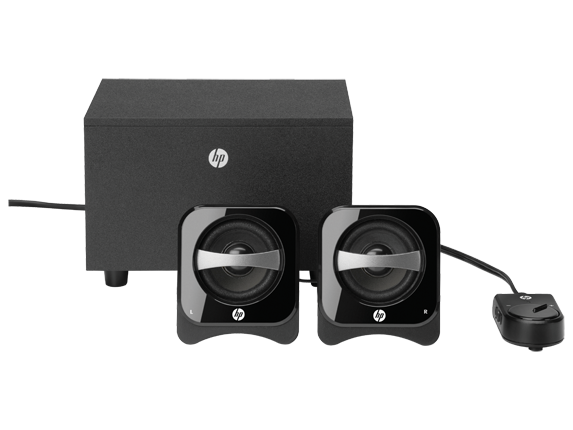 4" wood subwoofer provides impressive bass response
A wired control provides power on/off, volume control and headphone jack within your reach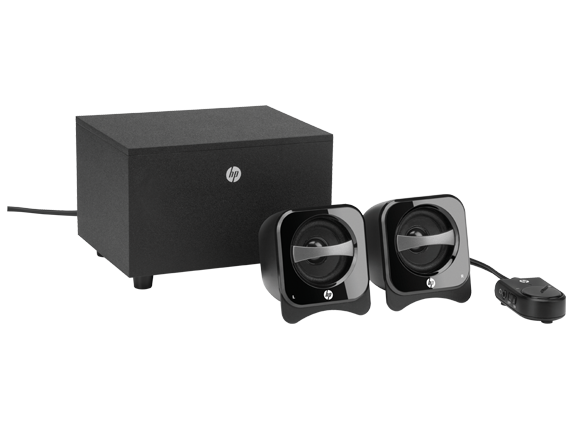 A wired control provides power on/off, volume control and headphone jack within your reach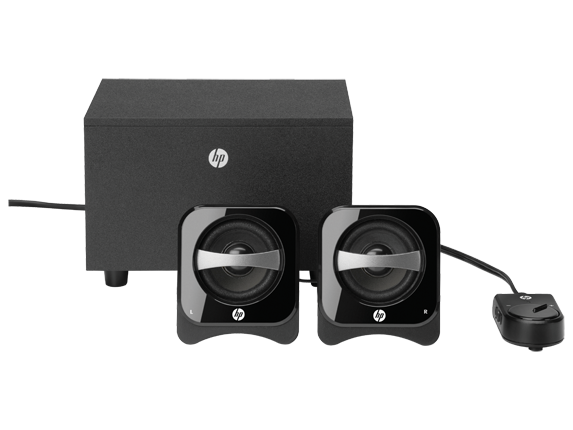 Headphone jack enables private listening
---
Return & exchange information
HP.com will accept returns or exchanges for this product up to 30 days after delivery.
Compatible across all notebook and desktop platforms with Windows XP/Vista/7/8
Compatible operating systems
Minimum system requirements
Available 3.5mm audio port
Woofer: 7.6 x 5.93 x 5.2 in; Satellite: 2.68 x 2.5 x 3.07 in; Remote: 1.41 x 2.36 x 0.75 in
One-year limited warranty
2 Speakers; 1 Subwoofer; 1 Wired remote control; Quick setup guide; One-year limited warranty
Return & exchange information
HP.com will accept returns or exchanges for this product up to 30 days after delivery.
Free shipping & free returns
Save 10% instantly, ends 1/21
Product reviews
Rated

1

out of

5
by
LisaandChris
from
Bulky and not working
We have had these about 10 months and now they are not working at all. Seems like a very bulky box to find space for on your desk for, and lots of wires to deal with. I much preferred the speakers that didn't have the box and never had a problem with that type of system, less wires too. Hoping the warranty covers these as it stinks not having any sound.
Date published: 2016-11-20
Rated

2

out of

5
by
DeeBee70
from
Stopped working
I purchased this speaker system with my computer last year. Had no problems at all until today, when the speakers will not turn on. Tried plugging the system in to a different outlet, tried them on a different computer, and tried out headphones in the same jack on my computer; headphones worked, but the speaker system simply no longer has power. Did not expect to need to replace speakers that are less than a year old.
Date published: 2016-11-05
Rated

2

out of

5
by
BS1277
from
Poor Longevity
Bought these speakers with a computer. I didn't have very high expectations for sound quality given their price. I was pleasantly surprised at the sound when I got them. However, after a few weeks, if I wasn't streaming music through them I would get these weird buzzing noises and such coming through. I checked everything under the sun and there was no apparent issue. Since I am typically listening to music while I work, it didn't bother me too much. A few weeks ago the sub stopped working completely. When you switch the system on and off you get noise from the sub, but it doesn't work at any other point. I have not had these speakers more than a year and it is disappointing to have them fail so early.
Date published: 2015-12-01
Rated

1

out of

5
by
Misty2015
from
Disappointed
The system lasted less than a week. Only HP product I've ever had trouble with.
Date published: 2015-11-25
Rated

1

out of

5
by
NerdyTiger45
from
Two Came in Broken; Not Trying a Third!
I will be up front in saying I am in no way a speaker expert or someone who's always looking for the latest and greatest speaker systems. I just want a nice set of speakers to work with my new computer. Now they may be low in price, but they are also low in quality and standards as well, and not in a way I would deem reasonable. I didn't have any real issues setting them up. I actually quite like their small size and the convenient remote. What I don't like is having one speaker work just fine while the other sounds like all the audio is being funneled through a tin can, popping, and crackling. Terrible, terrible quality. I looked and that speaker (the right one) looked to have a bit of a damaged suspension and bits of metal were showing around the edge of the diaphragm. Again, I'm no speaker expert and those very well could have nothing to do with it, but the working speaker didn't seem to have that. Got a replacement set. This time the right speaker is just fine while the left has the exact same problems as the right speaker of the first set. And, lo and behold, there's metal showing around the edge of the diaphragm. Again, not an expert, but when the two speakers that seem to have shoddy suspensions are crackling, popping, and putting out terrible audio while the other two speakers are just fine and don't have that...? Call it a hunch... but that might be an issue with some shoddy manufacturing. Or maybe I'm wrong and it's just bad wiring! Either way, that's 2 sets with identical problems that are not just simple annoyances or iffy sound quality. They are very glaring issues to the point that I immediately plugged my old speakers back in and shoved these back in the box. I'm not going to bother trying a third set. Shame I can't use them since the controller seems like it would be real nifty, but the quality is horrendous. And no, I cannot just unplug the working right speaker from one set and replace the broken right speaker on the other. The setup just isn't built to work that way. For my new computer I will instead be using a pair of decade-old speakers that are still going strong! Tl;DR - Pass on these speakers. If you absolutely have to pick a set of speakers with a computer, get the cheaper 2.0 set. You're likely to waste money on it either way, but at least there you're wasting less with the 2.0. Either that, or get one of the more expensive sets that might actually work!
Date published: 2015-07-21
Rated

1

out of

5
by
MaryE4955
from
Annoyingly poor sound quality
I like HP products and have come back for more. These speakers were part of a bundled offer on-line (what did I know). Immediately while listening to tutorials for my new equipment, the buzzing they produced at certain tones within normal voice range was frequent and annoying. Playing music is no fun since there are so many "vibration/buzzing" deliveries at many on the musical range tones. I didn't return them because I was past the 21 day return period before I was able to try them as there was a big glitch in my order and the speaker part of the order came way before the CPU was finally delivered. Don't take a chance on these.
Date published: 2015-05-31