Elegantly designed.
Discreetly connected.
A seamless blend of fashion and smarts for the modern woman
A seamless blend of fashion and smarts
Buy now >
ENGINEERED BY HP
Engineered by HP is infusing innovative materials, design and custom technology into the style of the devices you love, to make them more connected and responsive to the way you live.
These wearables work with both iOS (8+) and Android (4.4+). Exceptional performance with up to 5 days of battery life for smart functions. A beautiful water-resistant watch that's always on.
Up to 5 days* of battery life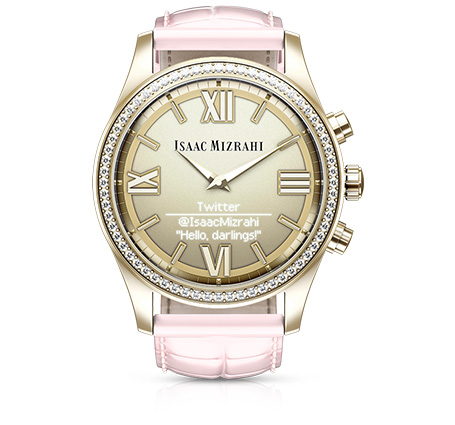 An Isaac Mizrahi original
With fabulous Swarovski crystals framing the classic gold or stainless steel watch face, a variety of easily swappable coloured bands and a subtle digital display, this distinctive Isaac Mizrahi design is unlike any other.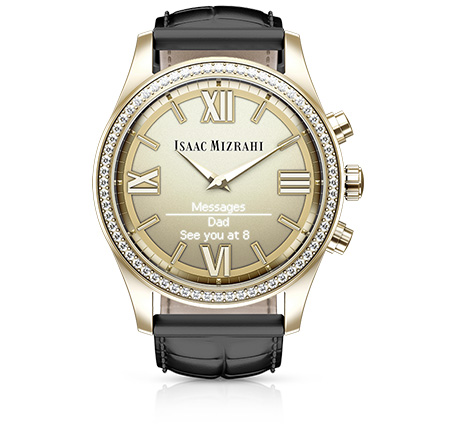 Notifications you want.
Nothing you don't.
Be instantly connected with just a glance at your wrist. Notifications for incoming calls, calendar alerts and texts, keep you in the loop on what matters.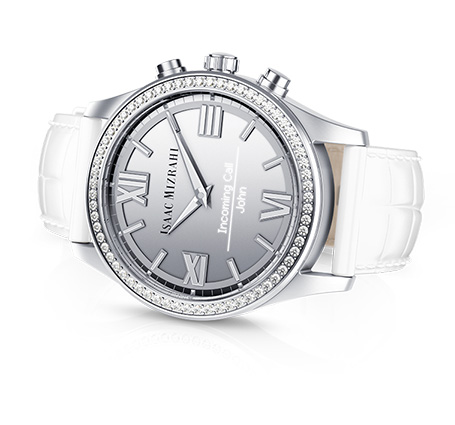 Classic analog movement
Get the look and feel of a traditional watch face with the timeless design and classic analog movement of this smartwatch.
FEATURES
Important notifications at a glance
Get important notifications with just a glance at your wrist.
Subtle digital display
Hidden when inactive, the subtle digital display never gets in the way.
Fashionable activity tracking
With the built in activity tracking, you can count your way to fitness.
Stay on top of your day
Quickly review scheduled appointments right from your wrist with your calendar.
Stay up to date with Isaac
A direct feed of Isaac's social media keeps your fashion on point.
isaac mizrahi
Isaac Mizrahi has been a leader in the fashion industry for almost 30 years. Since his first collection in 1987, Mr. Mizrahi's designs have come to stand for timeless, cosmopolitan style. He has been awarded four CFDA awards, including a special award in 1996 for the groundbreaking documentary "Unzipped." In December 2009, Isaac launched his lifestyle collection, ISAACMIZRAHILIVE! on QVC. In addition, television audiences have come to value Isaac's media presence through his roles on "Project Runway All Stars" for Lifetime and his own series for both Oxygen and the Style Network.
The details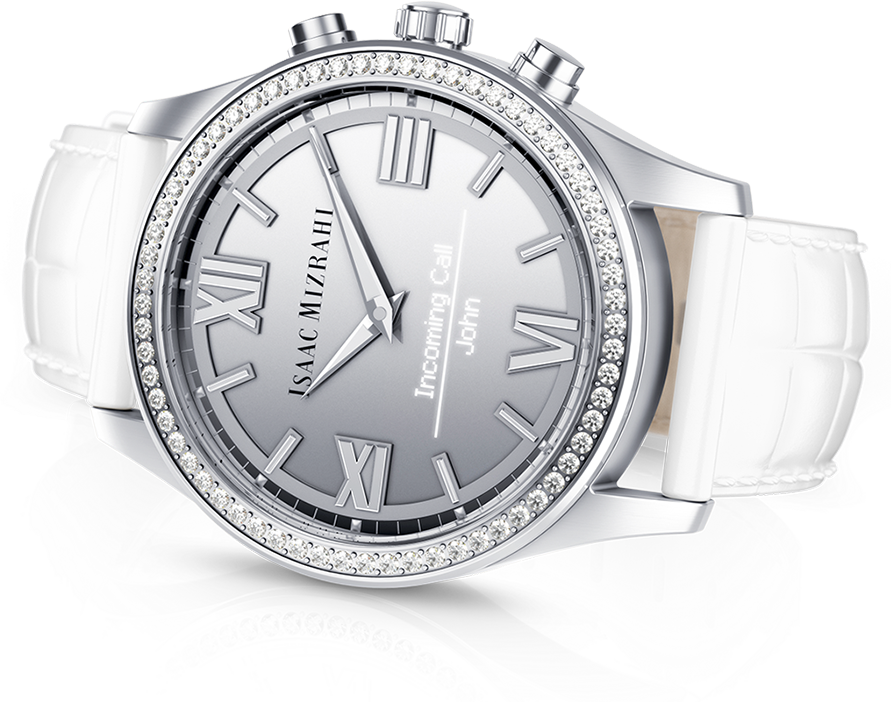 Refined craftsmanship
Stunning Swarovski crystals surround the 42mm round stainless steel casing. The timeless face features analog movement and a subtle OLED digital display for an irresistible look.
Water-resistant
You don't have to worry about rainy days ruining your smartwatch. This high-tech timepiece is conveniently water resistant up to 3 atmospheres.
Bluetooth® wireless technology
Let that smartphone stay tucked away in a handbag or purse. Powerful Bluetooth® technology lets this smartwatch stay securely connected to your phone.
Custom-fit charger
The easy-to-use, custom fit charger lets you use any USB port to charge up your Isaac Mizrahi smartwatch when you're running low on battery.
add more colour
When you find the perfect outfit, give it the perfect compliment with tons of colourful strap options. The interchangeable leather bands let you switch it up in a snap.
A seamless blend
of fashion and smarts
The details
Isaac Mizrahi
Smartwatch Silver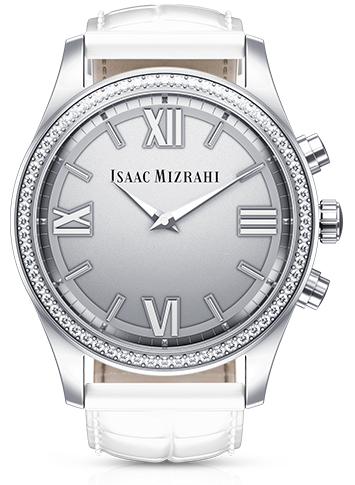 Product Description
Swarovski crystal framed watch face
Stainless steel case
Interchangeable colour leather bands
Custom-fit, easy-to-use power charger
Isaac Mizrahi
Smartwatch Gold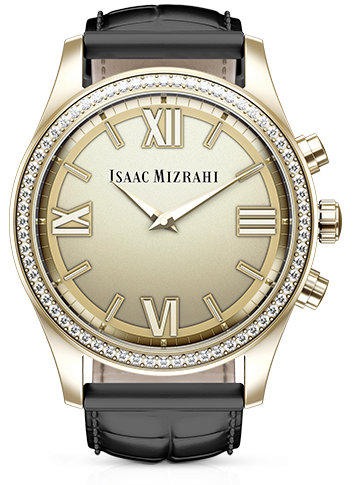 Product Description
Swarovski crystal framed watch face
Classic gold case
Interchangeable colour leather bands
Custom-fit, easy-to-use power charger